Ragmask Max v1.4
This is a modified Ragmask for higher filtration using only fabrics available on the high street. The original Ragmask version 2.3 construction guide PDF here (great work Loren Brichter). This site's maintainer has been sharing "masks work" studies on social media since Feb 9th, and experimenting with satin filters for masks since the end of February and sharing designs since mid March (see main site).
---
Pics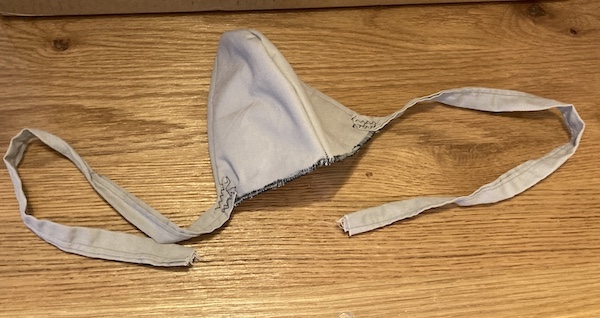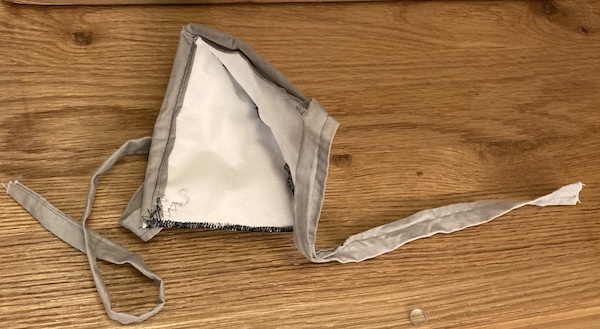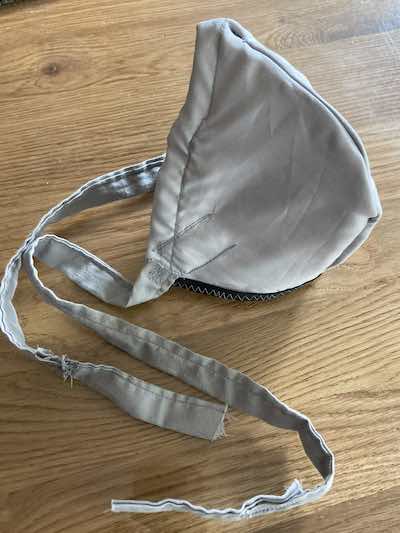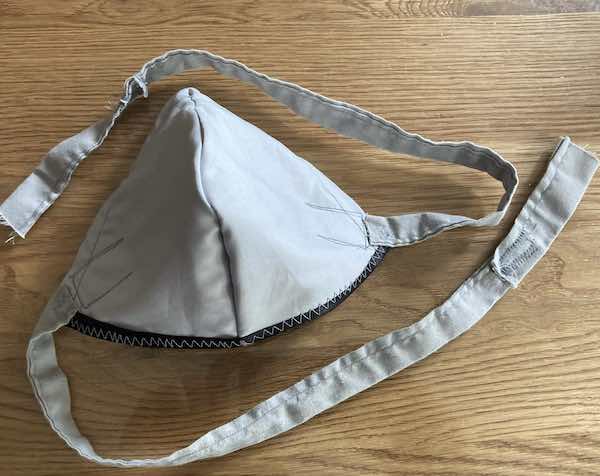 Features
Easy to sew 3D shape for a tighter fit meaning far less air going around the mask
Satin liner: 1 - 4 layers depending on your lung strength, the thread count of the cotton you're using, and whether you're working in proximity to possibly infected people
Removable plastic retainer: This pushes out the fabric to increase breathability. See video of mask without retainer and with retainer for comparison. See also alternate removable retainer designs.
Cotton outer. Suggested: 600-thread cotton from sheets from a supermarket (or online)
Two sturdy straps that are easy to tie behind your own head if you have decent nose (variation to add two more straps if that's not holding). There's no elastic involved, and your ears are not under strain.
Washable: You can should should wash yours each evening if you wore it that day. Hand wash is preferable, but machine wash in a netting "laundry bag" is possible too
Ragmask Max uses a different template to the regular Ragmask and has a slightly different construction guide (see below).
Materials
Fabric Science - Cotton and Satin
Satin is tested for the first time in this April 18 2020 study: Aerosol Filtration Efficiency of Common Fabrics Used in Respiratory Cloth Masks (Abhiteja Konda, Abhinav Prakash, Gregory A. Moss, Michael Schmoldt, Gregory D. Grant, and Supratik Guha). The study rates chiffon higher, but you're going to do multiple layers of satin here to compensate. The study has a scientific breakdown of fabrics here Supporting information - Aerosol Filtration Efficiency of Common Fabrics Used in Respiratory Cloth Masks. I have worked with the figures by Konda et al to calculate filtration for different layer combinations: PLAYING WITH THE ARGONNE/CHICAGO FABRIC FILTRATION DATA. I have also been involved in a particle study that looked at 400 thread count cotton and the satin that I use for filtration: ZACH'S FABRIC TESTS APRIL/MAY. Use 600 thread count sheets is the simple conclusion - per Konda et al.
Cotton outer
Some cotton with a high thread count for the outer layer. I cut up a bedding set from the supermarket (400 thread count)Sainsbury's 400 Thread Count Fitted Sheet White . OR (better) some higher thread count cotton (750 thread count) Supima® Cotton 750 Thread Count Fitted Sheet
Satin liner
Some satin - again I used a bedding set (online purchase), but that may end up being thinner satin. If a fabric store is still open near you. This thinner satin is preferable. Duchess(e) satin is thicker (this is what wedding dresses are made of), but it is unsuitable for use in masks as it is too hard to breathe through even with the cupping design of this mask.
Plastic retainer for force 3D effect
Thin flexible plastic mesh sheet in order to snip up into a retainer (about 5 per sheet). I used inexpensive SNOBBIG placemats from the IKEA, but others could be found.
Nose wire
Plastic coated metal for the nose wire. I used "Soft twist plant ties" for the garden like this which were £1 for 10 yards for me until they ran out at my local poundland (dollar store)
Others
Lastly, you'll need a sewing machine with a zigzag stitch, polyester thread, and scissors
Fit
Ragmask Max: fit with two straps - you're making a short shopping trip, or have a solid nose to hold the mask in place for extended periods of time.
Ragmask Max: fit with four straps - you're working in this mask.
---
Frequently Asked Questions (FAQ)
Can these be machine washed with that plastic retainer sewn in? - no, the plastic isn't strong enough to retain shape once it is out of the washing machine. That's still true if you washed them in a laundry bags which is a good idea anyway for masks.
How good are these at filtering particles? Probably quite good - see "fabric science" above
Does the vertical ridge in the inside center of the mask tickle your skin? - No it's held away from your skin by the plastic retainer
How long can these be worn for without readjustment? The site maintainer has worn one for two hours at a time without adjustment.
How long can these be worn for without in total? They should be good for all day use
Does your own breath make the mask damp? On the outward-facing cotton layer, sometimes yes, but not the inside layers as polyester often dries as fast as it moistens
Will you be oxygen starved using this mask? No, but your chest muscles will get a small-scale workout pulling air though the higher-thread count material - inhalation. And again pushing it back out again - exhalation.
Construction
One will take fifteen minutes to do the sewing on a machine, assuming you have ready to go straps. Here's a video of the the site maintainer making one:
If you make them in a batch, and don't keep cutting thread, then the time can drop to 7 minutes per mask
URL for that: https://cv-masks.github.io/vid
Step by step for three-layer satin filter
See nose wire preparation: https://cv-masks.github.io/nw
Note - I am looking for help moving beyong IKEA placemats to 3D printed designs (downloaded from https://www.thingiverse.com/). See here
See how to make straps: https://cv-masks.github.io/s
Pertinent blog entries
About this site, and my quest for improved home made facemasks:
David Powell is International Air Transport Association's (IATA) medical adviser and he said "forget facemasks" on a published Skype interview on Feb 9th (or so). It took me 90 mins to find a 2008 study on "Professional and Home-Made Face Masks Reduce Exposure to Respiratory Infections among the General Population" and post that to Reddit. This microsite was first published on the 28th Feb, and I've continued to promote "Masks For All" and evolve mask designs since.